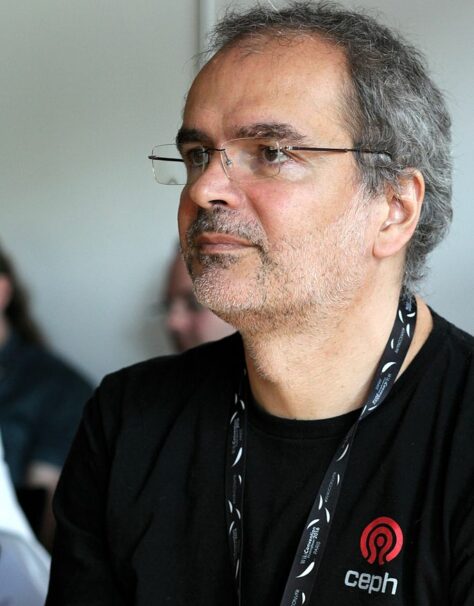 Loïc Dachary
Developer & Devop
12 bd Magenta ,75010 Paris
Experience
Easter-eggs
2021-
Developer
Developer with a strong inclination towards federated and distributed storage systems.
enough.community
2017-2021
Devop
Developer of the Enough infrastructure (as code). Installation and maintenance for journalists and human rights defenders. Contributor to SecureDrop with a focus on internationalization.
Python, Ansible, OpenStack, GNU/Linux.
Red Hat
2014-2017
Principal Developer
Cloudwatt
2013-2014
Senior Developer
eNovance
2012-2013
Senior Developer
OutFlop
2007-2012
Senior Developer
Mekensleep
2004-2007
Lead Developer
GNU
2000-2003
Contributor, co-maintainer an packager of NeL, a software platform for creating and running massively multi-user entertainment in a 3D environment over the Internet.
Architect and maintainer of Savannah a development hosting facility for the GNU project.
C++, Python, php, Perl, GNU/Linux.
Ecila
1995-2000
Senior Developer
Author of the Catalog Perl module (98-01). Catalog is a web based software to publish and maintain Yahoo! like resource catalogs. It is able to handle large catalogs like dmoz. Catalog is distributed Perl.
Implementation and documentation of a search engine.
Implementation and bootstrap of the free web hosting service, www.chez.com.
C, C++, Perl, GNU/Linux
AFP
1992-1995
Developer
Visual administration tool for documents workflows.
C, C++, Tcl/Tk, HP/UX.
SARL 2001
1991-1992
Developer
Multi-layer graphical editor.
C++, InterViews, Ultrix.
GNA
1990-1991
President
Non profit to make and distribute free software. Contributions to GCC and binutils. GNA became FSF France in 2001.
GCC, Perl, Solaris.
Axis
1987-1990
Trainer, developer